The Hyundai Palisade remains an underrated hero. The Kia Telluride wins every award in the midsize 3-row SUV category, including our very own Best Buy award. But the Palisade and the Telluride are twins.
They share the same chassis. The same 3.8-liter V6 developing 291 horsepower. The same 8-speed automatic transmission. Same warranties.
They differ only in matters of execution, such as the placement of interior components and the combination of features available at each trim level.
Both are getting a refresh for 2023. This gives the least-appreciated sibling a chance to improve on some of the small decisions that send most of the rewards to his corporate sibling.
The 2023 Palisade will hit the sales floors this summer. Hyundai has yet to reveal pricing, but we'd be surprised if it differs significantly from the 2022 model, which starts at $33,350 plus $1,245 freight.
New style: it's a slugger
The Palisade comes out of its update with a more rugged look. It carries a more blocking design theme – stiff vertical lines replace the few curves of the 2022 model. A new grille loses its angular sides and ties it to the rest of the Hyundai family with a pixelated pattern.
Changes to the rear angle are harder to spot, but the bumper has been reshaped with new low horizontal lighting elements that accentuate the width of the vehicle. These visual cues all make the palisade bigger even if its dimensions have not changed.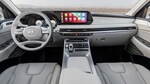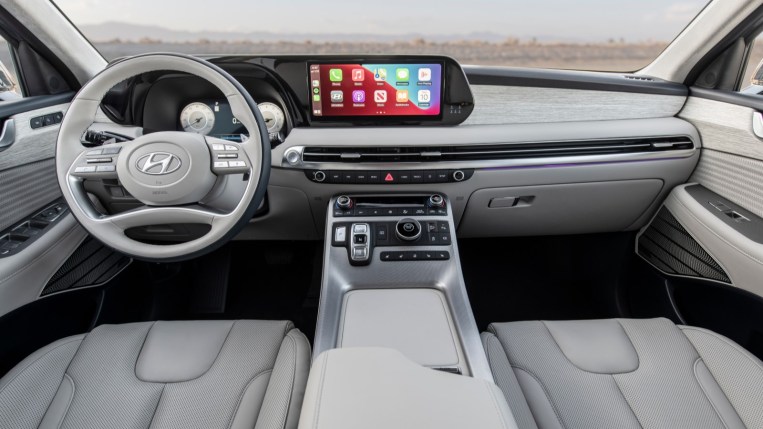 Rearview camera, Wi-Fi hotspot
Inside, the new Palisade gets a larger 12-inch center touchscreen. A newly sculpted steering wheel is a purely visual upgrade, but it's one of the most striking designs we've seen for such a simple item. Hyundai says the driver's seat is now more ergonomic – "designed to provide comfort and help reduce fatigue on long journeys".
The rear-view mirror is now a digital display linked to a camera in the tailgate – a cool touch as it means you have a clear view of what's behind you even when cargo is blocking the rear window. Hyundai has also added a Wi-Fi hotspot and the heated seats option now extends to all three rows.
New towing mode
The 2023 Palisade gets few mechanical changes, but the all-wheel-drive editions now include a tow mode. The Palisade already comes with advanced driver aids like forward collision-avoidance assist and blind-spot collision avoidance, so the only safety upgrade for the new year is a additional set of rear side airbags.
Will that be enough to steal an award from his brother this year? We are not sure. But, with many vehicles in short supply this year, the Tellurides are especially hard to come by. The Palisade is worth a test drive for anyone buying a 3-row SUV.