The mid-range segment has good phones with nice features without putting too much strain on your wallet. Realme 9i, a midrange phone with Snapdragon 680, is likely to be one of the best in the sub-30,000 price segment in Nepal. Find out how and why in this Realme 9i review with sample cameras, performance and usage experience.
Realme 9i review
Design and display
Realme 9i comes in a typical Realme design language with a rectangular camera module on the back. Made up of plastic, the phone doesn't look cheap. I had this blue color variant with a reflective back panel. Holding this phone in my hands didn't feel that heavy, but it might for someone with shorter hands. I would prefer the volume buttons on the right side but that's fine. Overall the phone looks decent as a mid-range for its price.
Speaking of display, the smartphone features a 6.6-inch Full HD+ 90Hz IPS LCD display with a punch-hole cutout on the upper left side. The 90Hz refresh rate is smooth without any hitches. Although it's an LCD screen, there's not much to complain about with the display quality. Content looks crisp and punchy. Watching movies, series and Youtube videos is as pleasant as on an AMOLED panel. If I have to nitpick, the only thing I miss is the inky black color quality found on AMOLED screens. And also, the visibility in the sun seems a little lower but it is usable.
Realme 9i Camera Review
The phone is packaged in a triple camera setup; 50MP+2MP+2MP. Unfortunately, there is no ultra-wide camera on this phone following the model of the Realme 8i, its predecessor. The main camera is capable of producing decent images with a large amount of light provided. Daylight images are good enough to use on social media. Both AI and HDR are powerful and bring vibrant colors to subjects. If you like warm-toned images, you'll love the releases. To be fair, colors aren't that natural, especially with HDR and AU enabled.
For portraits, the camera can differentiate subjects from the background to achieve a nice amount of bokeh. As a result, portraits of human subjects have good edge detection, although not perfect. Skin tones look "correct" and tend to produce lighter color tones. For non-human subjects, Realme's camera algorithm was great. Bokeh looks good with edge detection.
Also Read:- Realme GT Neo 2 Camera Review, Decent Enough?
For videos, it can only shoot up to 1080p at 30 fps. There is no stabilization and as a result videos are shaky. Also, the output is not so good to watch. The scenario is also the same on the front camera videos.
The 8MP unit on the front captures average quality photos. The skin tone is pale in most scenarios, but the details are respectable. You also get AI features to modify your face structure, eyes, and more. In low light, selfies are below average as expected.
Performance and UI
Snapdragon 680 on this phone looks decent for a mid-range device. 6nm silicon is great for everyday tasks such as social media browsing, casual gaming, multimedia use, and more. The chipset goes well with the 90Hz refresh rate and there is nothing to complain about. It feels crisp and smooth. As the phone still boots on Realme UI 2.0 based on Android 11, I feel a kind of disappointment. Realme UI 3.0 on Android 12 is already out and it looks much better. There are some occasional bugs in the current Realme UI 2.0. Also, it comes with tons of bloatware which luckily can be uninstalled.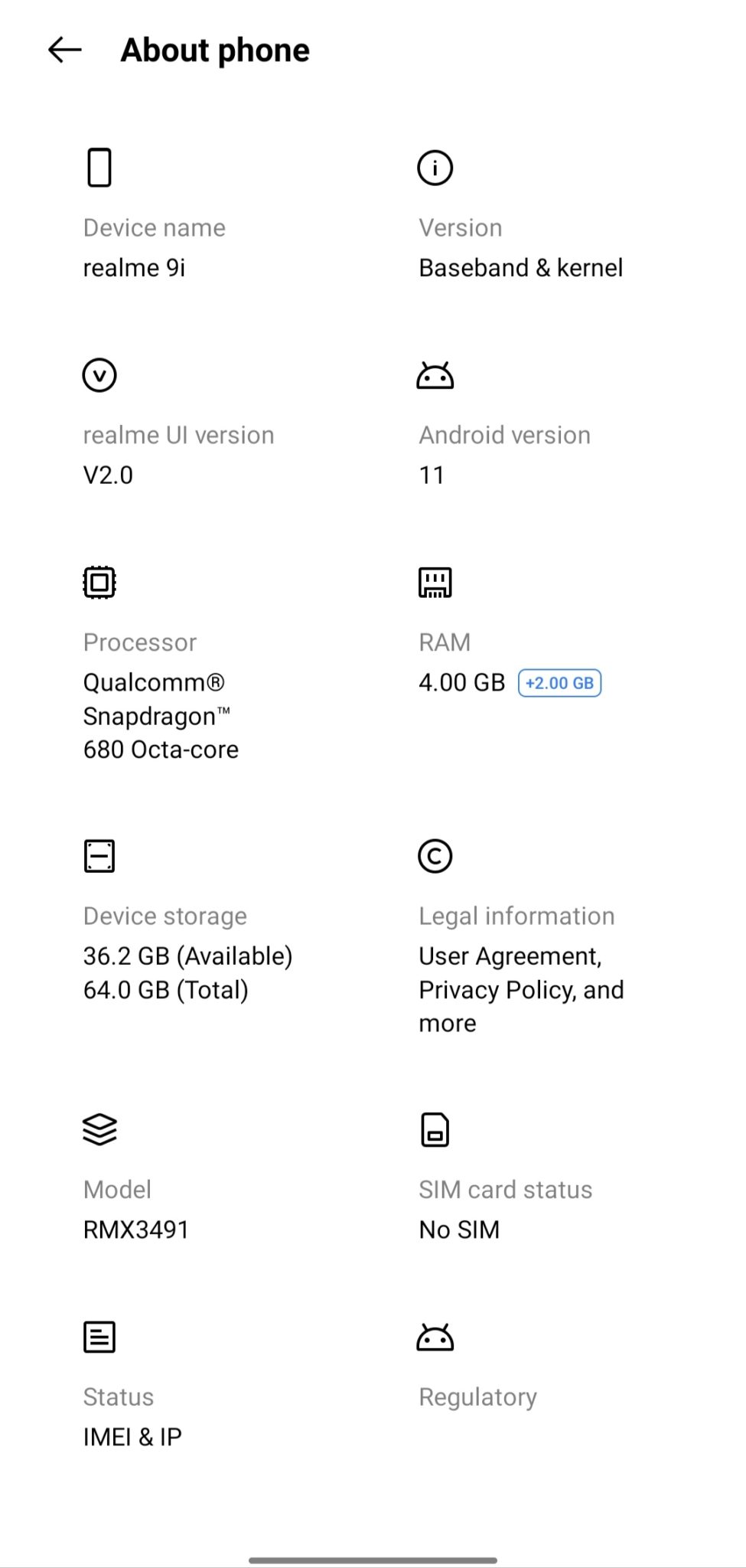 When it comes to gaming, Realme 9i is more than enough to handle casual gaming. While graphics-intensive titles cannot run at full fps. I only got 30fps for PUBG playing it on the lowest graphics setting. The gameplay was average, to be honest. Likewise, Call of Duty also offered the same kind of performance on this device. Heavy games are playable but not at best fps.
Apart from gaming, the phone offers decent performance for multimedia. The IPS LCD screen is nice and you'll only notice a difference when viewed with a side-by-side AMOLED panel. Both stereo speakers are loud but not so crisp. It easily meets your multimedia needs. Additionally, the headphone jack has a dedicated DAC through which the audio output becomes amazing on headphones.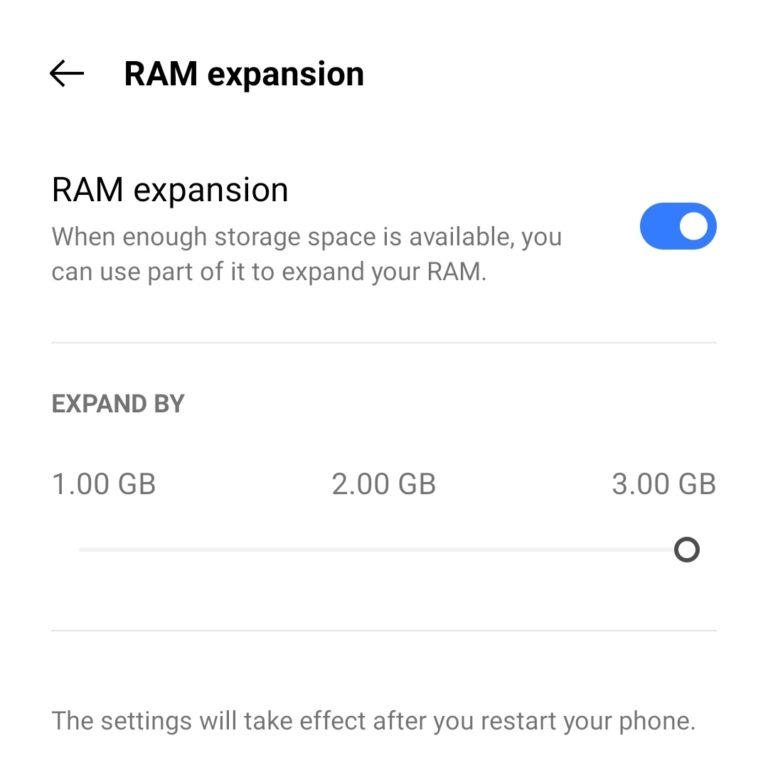 Cellular and WiFi reception is good. 4G speed is also commendable, but unfortunately there is no VoLTE. Realme should push an upgrade for that. There is also virtual RAM expansion from which you can virtually expand RAM up to 3GB for better RAM management and utilization.
Check out: Realme 9 Pro Plus Price in Nepal
Battery life and charging
The phone has a 5000mAh battery and a 33W fast charger in the box. The juice is enough for more than a day with moderate use without play. If intensive tasks are performed, it can still give more than 5 hours of SOT (Screen On Time). Charging takes approximately 1 hour and 15 minutes to go from 0 to 100%. Nevertheless, the battery life of Realme 9i is commendable. For non-gamers, this phone is good for battery life.
Benefits
IPS LCD panel with superb viewing angles and colors, 90Hz refresh rate
50MP main camera with powerful AI and HDR
Stereo speakers and headphone jack
Long battery life and 33W SuperDart charging
The inconvenients
2MP macro + 2MP depth sensor, not so usable
Bloatware
Realme UI 2.0 is still on Android 11 and some bugs are there
No VoLTE
Read: – Redmi Note 11 vs Realme 9i, the mid-range rivals
Verdict
Realme 9i is a decent mid-range device. Starting at Rs.24,499 for 4/64GB and Rs.27,999 for the 6/128GB variant, that does the price justice. The display is good despite being an LCD screen. You get a capable camera and a good set of stereo speakers. I really missed the ultra-wide camera and didn't find the macro and depth appealing at all. The colors could have been more natural. The AI ​​engine is powerful though. On the software side, Realme UI 2.0 needs an upgrade to fix some bugs and I think customers deserve Realme 3.0 with Android 12 which has been out for a while now.
Battery life is great, you get a charger that comes in the box. The 90Hz refresh rate is also decent for the price. But when it comes to downsides, Realme could have opted for an AMOLED panel and an ultra-wide camera. The counterpart, Redmi Note 11 features both things. Besides that, the phone is good to get for the price.
Check:- Realme Mobile Price in Nepal
So that was our Realme 9i review. What do you think of this device? Do you use one or do you plan to buy one? Share your thoughts in the comments section below.
Follow us on Facebook, Twitterand Viber to get latest news, information about Ntc, Ncell, Smart Cell and Phones in Nepal.