klimatorium: an environmental innovation hub
located along the denmark coastal town of lemvig, this "klimatorium" is designed by architects 3XN and SLA. the space operates as an international study center that focuses on mitigating the effects of global warming. Inside this creative mini-hub, researchers will explore initiatives on renewable energy, circular economy, water and storm surge. the project integrates spaces for public use and for outdoor recreational activities, introducing a place for the community to rediscover its natural surroundings.
the klimatorium is both identified by its undulating, concave wooden façade and its built-in seating – a sculptural element that celebrates the coastal zone's boat building heritage, taking notes on the curved wooden structures. the organic surface also playfully references the nearby skate park and its similar shapes. inside, this basin is expressed as a massive volume, defining the character of the space.
images © adam mørk | @adammork
the contemporary design of 3XN and SLA
3XN (see more here) designs the symbolic wooden "wave" of its klimatorium to float among an otherwise glass facade. rising only on two levels, the structure integrates into the built fabric of the city. an array of ebonized wood louvers wrap along the upper level, keeping a rustic look to offset the contemporary glass volume while protecting the interior from direct sunlight.
the klimatorium hosts a range of programs including office space, meeting rooms, common areas and a cafe and exhibition space accessible to the public. this public space encourages spontaneous interaction and collaboration. visual connections, a flexible floor plan, well-designed gathering space, and overlapping functions each enhance the social encounters within the building.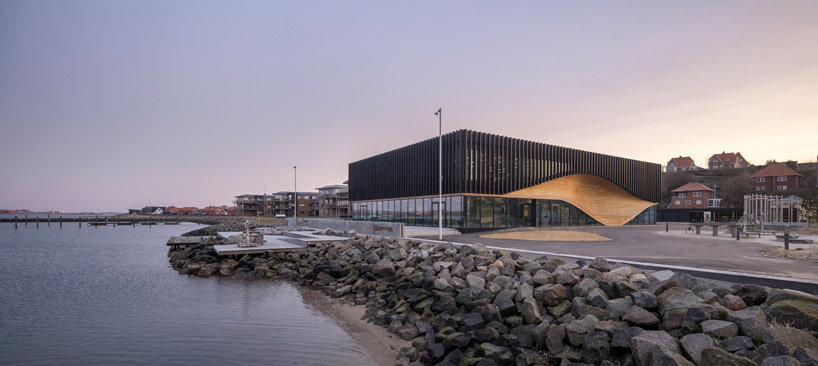 jan ammundsen, architect and senior partner at 3XN, comments on the design of the klimatorium: 'a key design element was to create an inviting building with clear references to the function of the building as well as its location in lemvig harbour. the wooden tiled wave gives the building a strong identity.
'both inside and outside, it becomes a gathering point and social meeting place for employees and guests of the klimatorium as well as for the inhabitants of lemvig.'